So after much
discussion
and contemplating between the different tuba designs I finalized on the Tuba HT. I was torn between it and the Table Tuba. The final decision came down to the realization that if I didn't build the Tuba HT, I'd regret it, wanting ultimately another table tuba which I don't have space for.
From the folks who remember my
original question thread
, I wanted to compliment my existing subwoofer which is a Mach5Audio 18" IXL18.4 in a 13 cu foot EBS/LLT alignment tuned to 14hz. (below). Once my THT is completed I'll be doing some listening tests and ultimately decide if I should retain the LLT. I've got a DCX2496 that I'll end up using as the crossover for both of these.
My Existing EBS/LLT
http://i216.photobucket.com/albums/cc41 ... G_4112.jpg
This will be the diary of my build and progress, I'm sure I'll have some questions along the way:
[== Last Week ==]
Last week I downloaded
Cut List
which is a free Cut List program. It did a great job of optimizing a cutsheet for the Tuba HT based on the precut dimensions in the plans. This past weekend I cut up the panels (pics below)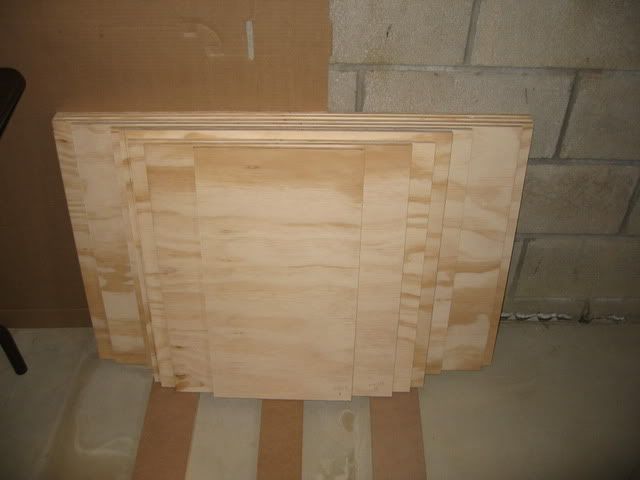 I decided to go with 23.5" wide panels (24.5" total width) as this is the most efficient use of lumber. Speaking of lumber, As there weren't any local lumber yards that cut down 4x8 sheets of Arauco I decided to take advantage of Ryder's current truck rental deal. $35 a day with 500 free miles. Great bang for the buck I must say. I stocked up at Menards in Marion OH which is about a 40 min drive.
As for the sub driver, I am currently leaning towards the
15" Dayton DVC
for a couple of reasons. #1) The THT was designed around it's cousin, the tempest. #2) The gasket on it seems to be made for flush mount orientations. I was also thinking about the
Dayton Reference HO
for $10 bucks more. Thoughts?