Hi everybody - I'm stoked to finally be able to share with first official outing of my BFM rig!
Over the last couple of years I've been assembling a complete band PA, from the ground up, based on OmniTop 12s and Titan 39s. I've also been acquiring all of the rack electronics to run it. A complete inventory:
Behringer XR18 digital mixer
QSC PLD 4.2 for tops and monitors
QSC PLD 4.3 for subs
QSC PLX 1202 (old) as a backup/emergency amp
Apple Airport Express dedicated wifi, running a 2008 MacBook Pro and a 2012 iPad Mini
2 OmniTop 12s with 2512 and melded piezo array
2 OmniTop 12s with 2512 and straight piezo array
2 Titan 39s 24" wide with 3012LF
2 Wedgehorn 8s with Beta (although the band prefer to use their old wedges; we'll have to work on that)
Last night was the first official outing for the entire rig, and my very first outing as a soundman to boot! Event was a birthday party for our BL's uncle, with about 150 people from the community in attendance. Entertainment was from two sibling bands - one older, one younger, but about half of the musicians are in both. So that meant a total of 9 musicians, 4 guitars, 3 keyboards, 1 bass, 1 drum kit. 7 channels of vocals, 10 channels of instruments (drum kit was sub-mixed from the throne, with a separate kick feed). The XR18 was just barely able to accommodate this; I had to use the "basic" channel 17 for one of the keyboards.
Room was a 75 x 75 square, with bare walls and concrete floors - very reverberant, even when filled with guests! For that reason much of the sound was coming directly from the backline.
At one point my wife was looking over my shoulder during a guitar solo; the solo was too loud, so I dropped that fader down. When it didn't make any difference, I muted his channel entirely, which still didn't make any difference. She laughed.
Here's a pic I took from the back of the room, just to give a visual - I suspect there are thousands of halls just like this across the country and across the world, that suffer from the same lousy acoustics that this one does!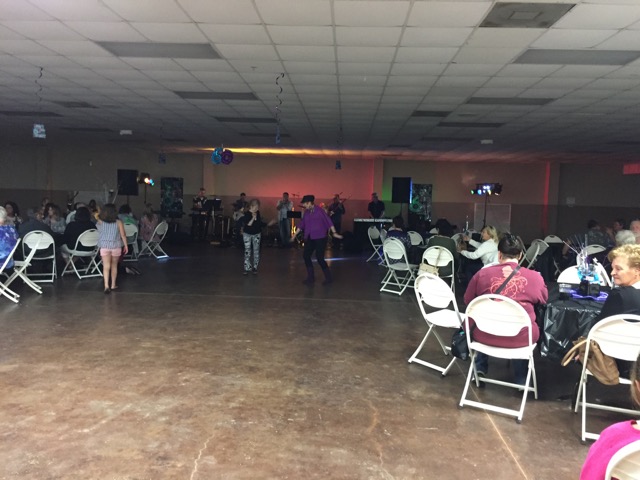 Setup was a breeze compared to our usual PA (1990s-era bass reflex stuff with class AB amps, ugh). The OTs looked really nice on their poles. I put the two T39s together against the wall, just visible in the background here (they made a nice shelf for putting other band crap on):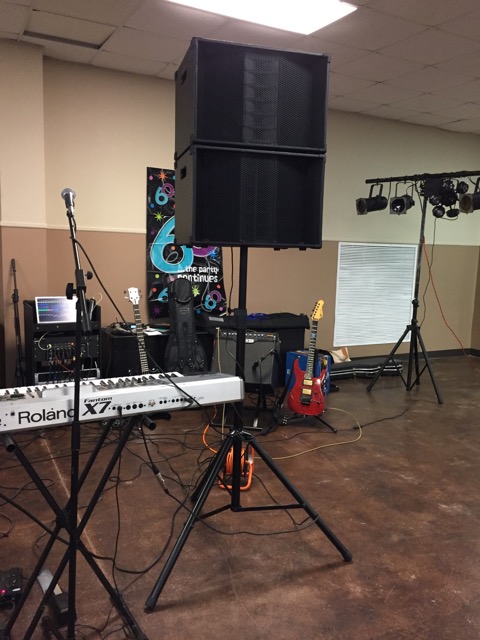 And here's an artificially-enhanced action shot. Several of the band guys were peering into the OT grills, trying to figure out just exactly what was inside. Bruce and DJP, I haven't completely discounted the AC foam grill treatment, but for now I'm digging the semi-sheer look, which allows a peek at the inner workings, showing off the tweeter arrays a bit. It was a conversation piece, especially when it took one of the fellas a few minutes to understand that
I built them myself
! He was clearly impressed with both the design and the execution.
(My modified 2010-era Jacks that I use for bass guitar are against the back wall too - the top one has eight 1005 tweeters panel-mounted, and both are currently sporting BP102 drivers - shhhh, don't tell anyone I deviated from the plans!)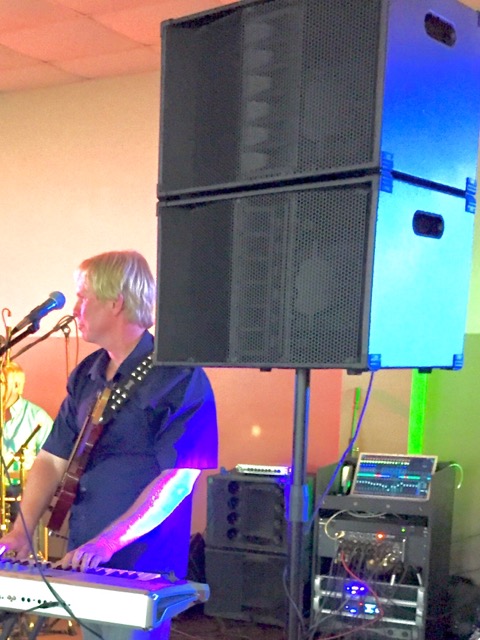 Sound was good, given the acoustic circumstances. The OTs sounded amazing; very clear and crisp, and effortlessly loud. Because the room was boomy, I used quite a bit of low-cut EQ, and kept the kick level down, so the T39s were basically idling all night. I dropped the bass guitar backline out entirely, as the rogue Jacks completely filled the room all on their own. Definitely not a workout for the subs!
Having gates for all the mics, compression for the vocals, and three monitor sends instead of our usual two made the XR18 a hit for me. I was able to give our BL his own aux bus for his IEMs; he downloaded the app on his iPad, connected, and did his own IEM mix. Nice.
Monitor feedback was virtually nonexistent. I was able to keep the mains level reasonable, which meant the monitor levels were also reasonable. I also think the OT clarity helped a lot here. When I was singing lead, I could hear myself through the mains about as equally loud as the monitors. Bounce-back from the rear wall? Or my close proximity to the (slightly toed-in) OmniTop? Whatever the reason, I really liked it.
Tear down afterwards was a joy as well, since these cabs and this rack are so lightweight. Another huge plus in my book.
Overall, the band members and other musos in the audience were very complimentary. One guy likened it to "a huge stereo", a description that I've read here on the forum but never experienced firsthand.
Thanks Bill for the fantastic designs, and thanks to all of you forumites from whom I've learned a lot, and who have coached and advised me along the way! More to come!