One more update before going milling the first sheet. It's taken quite a lot of prep to get these files together. Modeling has been a useful step though the work in setting up the CAM files has been a bit of a pain and represents probably 8h of labor (including deconstructing the model into a flat layout of sheets). Part of this time is due to my learning curve in using the mill this way - I've only ever used a CNC to build topography models which was a more forgiving experience. I'm also going to try to do the bevels/angular cuts using the 5 Axis capabilities of this router which is another first for me. Anyway the first panel is ready to go and hopefully will get milled later this evening. This is the easier of the two sheets because none of the parts have to be flipped over to cut the second angled edge. I've worked out the number of steps to deal with that condition (drilling into the spoil board, fitting it with dowels, flipping the sheet, another set of cuts etc) but it will take time to lay out that logic in the CAM software I'm using (RhinoCAM). Do the easy one first first and sort out the kinks before tackling the harder stuff is my thinking. Here the model of the panels and braces I'm trying to cut out and how that's translated in cut geometry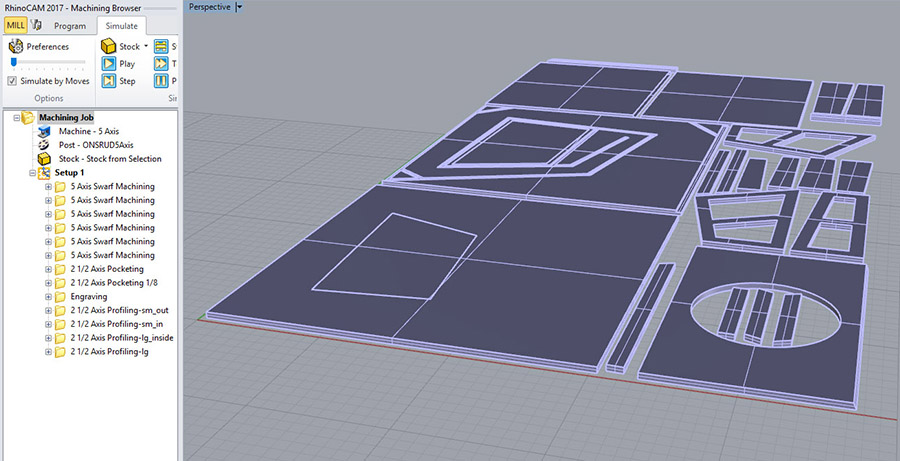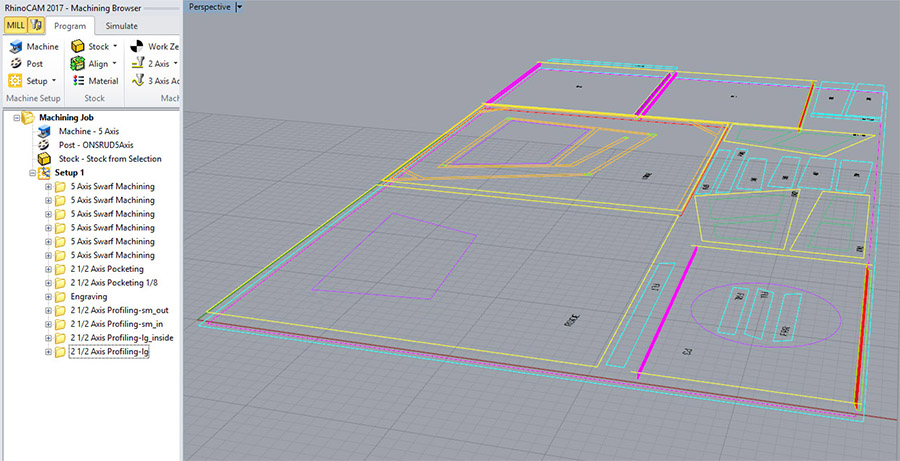 On the left are the different types of commands that are being issued to the mill and the order in which they are executed. Essentially all the angular cuts
/bevels are done first with a 5-axis cut (I separated all those cuts out into their own groupings but that probably wasn't necessary- that's just how I got it to work).
Next I cut the dados on the left side of cabinet. These are done with a 1/4" bit cutting to 3/16" deep. I then go over the corners that end up rounded (because of the tool diameter) with an 1/8" bit. I have a 1/16" on hand but I'm hopeful it won't be necessary to get things to fit as these corners have a radius of 1/2 the tool diameter so that leave a 1/16" of an inch rounded edge which I figure the give of the wood and glue will deal with.
Then I engrave each one of my pieces so I know what's what - always on the inside if it's an outward facing panel.
Finally I go through the step of cutting out all of the inside pieces, the small parts, and finally the big panels.
RhinoCAM gives you a simulation to check your work. The preview is looking good.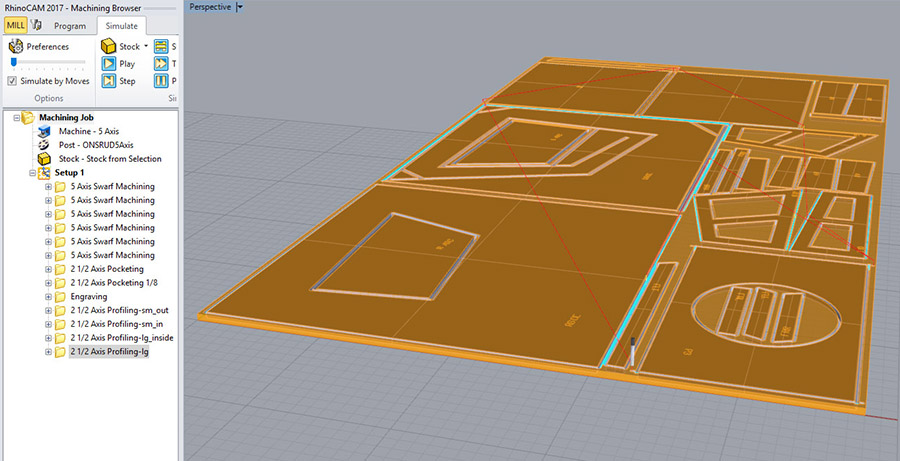 It all seems so logical... We'll see how it goes. Given the time I'm investing in this setup I'm having fantasies now of making eight of these. Ha! I'm sure the experience here will go along way in speeding up the process with the Otops.